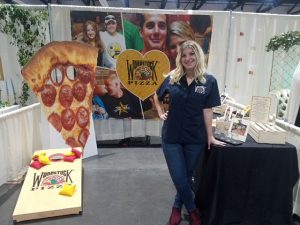 Woodstock's Pizza is looking to add another member to the team!
This position is designed to create a Woodstock's presence throughout the campus and community. The person we hire must have a creative, marketing mindset, constantly looking for opportunities to increase
sales for Woodstock's.
Our ideal candidate has the self-confidence to engage with leaders in the corporate world. The right person will be motivated by earning commissions based on performance, and by seeing Woodstock's increase its sales and profitability. Importantly, we need a team player who can get along with diverse personalities both in and outside our store. As we develop our beverage program, it would be great to find someone who is passionate about craft beers and wines.
Accountability: 
This position will be managed by the store's General Manager. In addition, there will be monthly calls, training, and communications with the Director of Business Development in Admin.
Full-Time Position Benefits Include:
Competitive wages
A generous bonus plan
Health and dental benefits
A cell phone stipend each month 
Mileage and professional expense reimbursement
Extensive, continuing training
Free food at Woodstock's
A 50% employee discount at Woodstock's anytime
Fun at work!