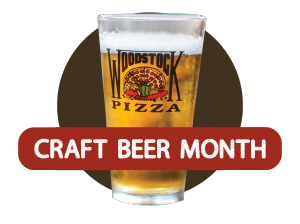 Beer Themed Events Happening Weekly! PLUS, we're introducing Brand New Smokin' Dry Rub Wings to go along with all your brews.
All Month Long – Grab a Beer Passport, drink 20 different brews over the month & get an 

 Shirt.
All Month Long – Hipster Craft Beer Selfie Competition – Take a beer selfie anywhere during May, post to Facebook or Instagram and tag us & the brewery to be entered to win Free Pizza!! We'll pick a winner weekly and feature them right here.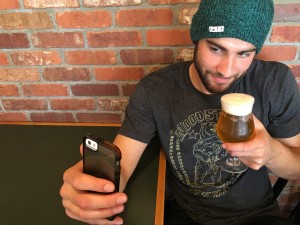 Events:
Tue, 5/3 – Let the festivities begin! Smokin' Dry Rub Wings are officially on the menu! We've improved our cooking process for a better texture and added this new flavor featuring an herby seasoning that you can dip in any sauce you like.
Wed, 5/4 – Hawaiian Pint Night featuring Kona Brewing and Lei Day!
Thu, 5/5 – Feliz Cinco de Mayo! BOGO on L or XL Kickin' Carnitas All Day!
Tue, 5/10 – You think you know your brews? Join us for Beer Themed Trivia Night!
Wed, 5/11 – Happy Wing Wednesday!! Wings are 50 cents each all day long!
Wed, 5/11 – Bang the Drum Pint Night! Join us for drinks, meet and play a round of Cards Against Humanity with Brewmaster Jeremy Fleming!
Wed, 5/18 –  Chuck Hiigel, a founder of California Festival of Beers, will be joining us before Pint Night – This is going to be a real treat! Join us for some tasty brews, all-you-can-eat pizza and learn about the historical Beers of the 707: The Birthplace of the American Microbrewery. A tasting of beers from six breweries that defined the early California brewing revival. (Click here to get tickets now.)
Mon, 5/23 – Wing Eating Contest at 6 PM!!! Champion will win not only win the title of Fiercest Wing Eater in SLO, but some equally cool shwag.
Wed, 5/25 – We're wrapping up the month with an M. Special Pint Night featuring Cheesy Bread and Beer Pairings! This is some deliciousness you don't want to miss!
BONUS – Flights are available all month long! Pick any 4 of the 11 brews on tap and get a 5 oz. pour of each. (Flights do count on your Beer Passport)

Follow us on Facebook for ongoing updates!